Filipino Recipe Bread Pudding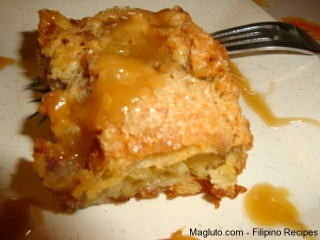 Bread Pudding Ingredients:
1 loaf Cinnamon twist bread, cut into small pieces
3 eggs
1 stick unsalted butter, melted
1 cup Whipping Cream
1 cup Milk
½ cup Sugar
1 tsp Vanilla
dried fruits
nuts
2 tbsp turbinado sugar (raw sugar) optional
How to cook:
1. Beat eggs lightly.
2. Add all liquid ingredients first then the dry ingredients and pour into a baking dish.
3. Sprinkle with raw sugar on top.
4. Bake for 40-45 minutes until firm and brown.
5. Serve with caramel sauce on top.
Caramel Sauce Ingredients:
1 1/2 cups Sugar
1 stick unsalted butter
1 1/4 Whipping Cream
How to cook caramel sauce:
1. Put the sugar into a sauce pan.Keep on stirring as the sugar begins to melt go on.
2. Add the butter. Cook the sugar and butter over medium heat. Bring to a boil.
3. When it turns to dark golden amber color pour in the cream.
4. Keep stirring until everything is mixed together and the caramel is smooth.
5. Let cool in the pan for 2 minutes to allow the caramel to come to room temperature.  It will thicken up as it sits.
6. Keep it in the fridge.
More photos: