Filipino Recipe Ginisang Tahong (Sauteed Mussels)
Ingredients: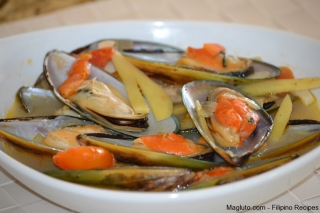 1 lb. mussels (tahong)
1 medium sized onion, chopped
3 cloves garlic, minced
1 ginger, sliced
tomatoes
1/4 c fish sauce (patis)
1 c water
cooking oil
How to cook ginisang tahong:
1. Saute onion, garlic, ginger and tomato in a casserole.
2. Add the mussels.
3. Then add the fish sauce. Mix for 1 minute.
4. Add the water and simmer for about 5 minutes.
5. Season with salt according to taste.
6. Serve hot.
More photos: