Nilagang Buto-Buto ng Baboy (Boiled Pork Neck Bone with Vegetables)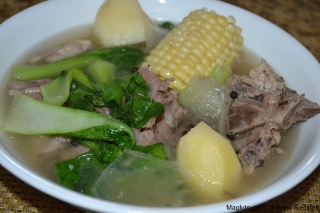 Ingredients:
2 lbs pork neck bone, cut into serving pieces
1 medium sized onion, quartered
4 bundles baby bok choy
2 pcs corn on the cob, each cut into 4
4 medium sized potatoes, quartered
¼ tsp peppercorns
fish sauce
salt
How to cook nilagang buto-buto ng baboy:
1. Place pork neck bone, onion and peppercorns in a big pot. Add about 10 cups water and bring to a boil over medium heat until scum appears on the surface. Remove all the scum that will form on top of the soup.
2. Cover and simmer until pork is almost tender, approximately 20-25 minutes.
3. Add fish sauce, corn cobs and potatoes. Simmer until vegetables are almost cooked.
4. Add baby bok choy and salt according to taste. Simmer until vegetables are cooked but still crisp.
5. Remove from heat. Serve hot.
More Photos: