Filipino Recipe Spaghetti with Corned Beef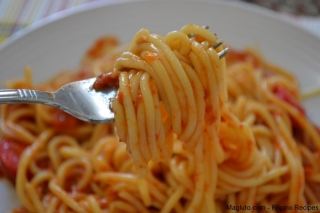 Ingredients:
1 lb spaghetti noodles
1 can corned beef
1 pouch spaghetti sauce
hotdog, sliced diagonal
1 carrot, shredded
1/2 small onion, diced
1/2 tsp minced garlic
shredded cheese
cooking oil
How to cook spaghetti with corned beef:
1. Cook spaghetti noodles according to package direction.
2. In a saucepan, saute onion and garlic in cooking oil.
3. Add the corned beef. Saute for few minutes.
4. Then add the spaghetti sauce.
5. simmer. Add the hotdog.
6. Then add the shredded carrots.
7. Bring to a boil. Season with salt if needed.
8. Serve hot and top with shredded cheese.
More photos: