Beef Tapa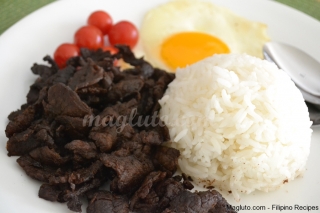 Ingredients:
2 lbs beef sirloin, thinly sliced
5 tbsp soy sauce
3 tbsp vinegar
2 cloves garlic, minced
2 tbsp sugar
1/4 tsp salt
1/4 tsp ground black pepper
How to cook Beef Tapa:
1. Combine soy sauce, vinegar, garlic, sugar, salt and black pepper in a container.
2. Add the sliced beef. Make sure that the sauce mixture covers the meat.
3. Refrigerate overnight or at least for 2 hrs.
4. Heat cooking oil in a skillet.
5. Drain meat from the marinade.
6. Fry the meat until cooked.
7. Serve with any side dish.
More photos: