Filipino Ginataang Alimango (Spicy Crab with Coconut Milk)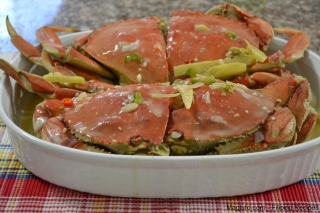 Ingredients:
3 large dungeness crabs, steamed "http://www.magluto.com/pinoy-halabos-na-alimango-steamed-dungeness-crab"
2 cans coconut milk
1 big jalapeno, chopped
5 pieces red chili, chopped
1 ginger, sliced thinly
1 medium onion, chopped
1 tsp garlic, minced
1/2 tsp salt
cooking oil
How to cook Ginataang Alimango:
1. In a wok saute onion, garlic and ginger.
2. Add the red chili and jalapeno.
3. Then add the coconut milk. Bring to a boil.
4. Add salt to taste.
5. Cut the crabs in halves. Put the crabs in the wok.
6. Scoop sauce from the wok and pour on the crab. Simmer for 5-10 minutes.
7. Serve hot with steamed rice.
More photos: