Lomi Noodle Soup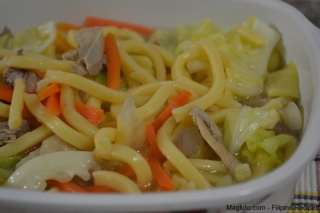 Ingredients:
2 lbs lomi noodles
2 quarter chicken legs
1 small cabbage, chopped
1 medium sized carrot, sliced
1 small onion, chopped
1/2 tsp minced garlic
salt
black pepper
cooking oil
How to cook Lomi noodle soup:
1. In a pot, boil chicken until tender. Slice the boiled chicken. Set aside the broth.
2. In a pan set over medium heat, sauté onion and garlic.
3. Add the chicken. Stirfry for 2 minutes.
4. Pour in the broth (add water if broth is not enough). Bring to a boil.
5. Then add the noodles and carrots. Simmer for 3 minutes.
6. Add the cabbage.
7. Season with salt and pepper (according to taste)
8. Serve hot.
More Photos: