Filipino Recipe Pansit Palabok
Ingredients: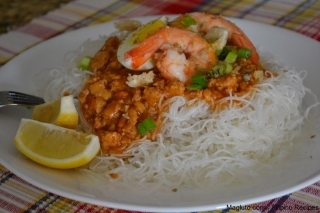 1 package rice noodles
water
For the sauce:
1/2 lb ground pork
1 packet palabok mix
3 cups water
1 shrimp bouillon
cooking oil
salt and pepper to taste
For the Toppings:
lemon, cut into wedges
large shrimps, boiled and peeled
pork cracklings (chicharon), crushed
tinapa flakes
hardboiled eggs, peeled and sliced
green onions, chopped
garlic, minced and fried
How to cook Palabok:
For the Noodles:
1. In a deep dish, soak rice noodles in water for about 5 minutes. Drain.
2. Place in the microwave for about 3 minutes. Set aside.
For the Sauce:
1. Heat cooking oil in a pot. Add the ground pork.
2. Add water and the shrimp bouillon. Simmer for 3 minutes.
3. Add water to the palabok mix then pour in the pot.
4. Bring to a boil until the sauce thickens.
5. Salt and pepper according to taste.
Place noodles onto serving plate. Spoon sauce over noodles and top with shrimp, chicharon, tinapa flakes, eggs, toasted garlic bits and green onions.
Serve with lemon wedges.
More Photos: