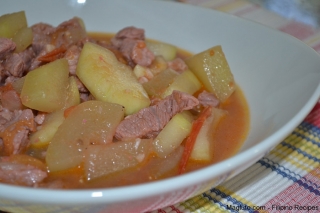 Ingredients:
1/4 lb pork steak, cut in small cubes
1 medium sized upo (gourd)
1 large tomato, sliced
1 medium onion, sliced
2 cloves garlic, minced
1 c water
1 tsp alamang
cooking oil
ground pepper
How to cook ginisang upo:
1. In a pan, saute garlic, onion and tomatoes in cooking oil.
2. Add the pork. Cook until the meat turns light brown.
3. Then add the alamang and cook for few minutes.
4. Add the water and simmer until the pork is tender.
5. Add the upo and season with ground pepper.
6. Simmer for few minutes. Make sure not to overcook the upo.
7. Serve hot with steamed rice.
More Photos: