Pinoy Halabos na Alimango (Steamed Dungeness Crab)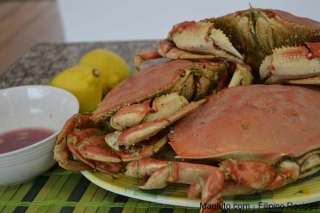 Ingredients:
3 large fresh dungeness crabs (alimango)
2 tbsp. salt
1 cup water
lemon with alamang (dipping sauce, optional)
How to cook halabos na alimango:
1. Pour water in a large cooking pot.
2. Add crabs then sprinkle with salt.
3. Cook slightly covered for 20-30 minutes until crabs turn bright orange.
4. Turn it once in a while to cook evenly.
5. Serve hot with a dipping sauce go to my blog.
More photos: