Bulanglang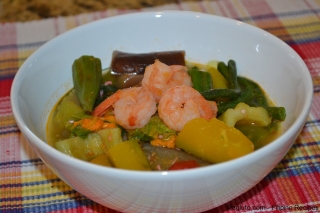 Ingredients:
cooking oil
small onion, chopped
2 cloves garlic, minced
1/2 lb cooked shrimps
small squash, cut into cubes
cherry tomatoes, (kamatis) cut in halves
10 pieces okra
1 big eggplant (talong)
1 ampalaya
1 bunch long beans (sitaw), ends trimmed and cut into 3-inch length
1 cup squash flower
1 tsp. alamang
salt to taste
How to cook bulanglang:
1. Heat cooking oil in a pan.
2. Saute onion, garlic and tomatoes.
3. Add shrimp and alamang.
4. Then add squash, long beans, ampalaya and okra. Saute for a minute
5. Add 4 cups of water. Bring to a boil until the vegetables are tender.
6. Then add the squash flower. Simmer for 1-2 minutes.
7. Serve with steamed rice.
More photos: