Filipino Pansit Miki at Bihon Guisado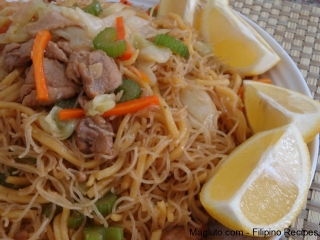 Ingredients:
2 pieces chicken quarter legs, cut in cubes
8 ounces bihon noodles
16 ounces miki noodles
1 medium size carrot, cut into strips
1/2 small size cabbage, shredded
2 stalks celery, sliced
3 cloves garlic, minced
1/2 medium size onion, chopped
1 cup soy sauce
1/2 tsp black pepper
1 chicken boullion cube
5 cups water
cooking oil
lemon, cut in wedges
How to cook pansit miki and bihon guisado:
1. In a large pan, sauté onion and garlic.
2. Add chicken. Stir for 2-3 minutes or until meat turns to golden brown.
3. Add water, soy sauce, chicken bouillon cube and black pepper.
4. Simmer until the chicken is cooked.
5. Add the vegetables (carrots, celery and cabbage)
6. Simmer for another 3-5 minutes.
7. Strain the chicken and vegetables from the pan leaving the liquid mixture.
8. Add the bihon noodles. Mix well.
9. Then add the miki noodles. Mix with the bihon noodles.
10. Cook until the noodles are soft.
11. Add the chicken and vegetable mixture. Mix well.
12. Serve hot with lemon wedges on the side.
More photos: