Filipino Recipe Swam na Mais (Pinoy Corn Soup)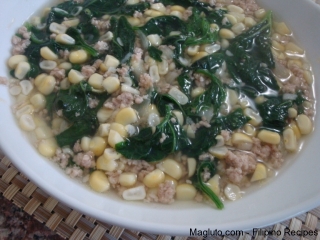 Ingredients:
2 sweet corn in a cob, grated
1/2 lb ground pork
1/2 onion, chopped
2 cloves garlic, minced
bunch of bittermelon leaves (ampalaya leaves)
2 tbsp fish sauce (patis)
4 cups water
salt
cooking oil
How to cook swam na mais:
1. Heat the oil in a pan.  Sauté garlic and onion.
2. Add the ground pork, mix for at least 2 minutes.
3. Then add in the grated corn.
4. Pour water and add the fish sauce. Simmer for 10 minutes.
5. To finish, add the ampalaya leaves. Season with salt.
6. Serve hot.
More photos: