Filipino Recipe Paksiw na Pata ng Baboy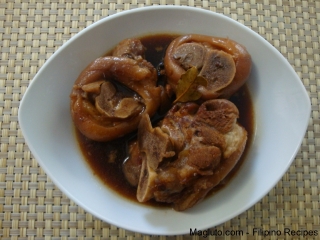 Ingredients :
1 pork pata, chopped into 1″ slices
1/2 c. of strong vinegar
3/4 c. of soy sauce
3/4 c. of brown sugar
3 cloves garlic
1 medium onion, quartered
2 bay leaf
1/2 tsp. peppercorn
How to cook :
1. Wash the pork pata well and place in a casserole.
2. Pour in just enough water to cover the meat. Bring to a boil.
3. Discard the water and add water again and bring to a boil.
4. When the meat is almost tender, remove meat from the casserole.
5. In another casserole, heat oil and saute onion and garlic.
6. Add the meat and half of the the broth from the other casserole.
7. Then add the vinegar, soy sauce, brown sugar, peppercorn and bay leaf.
8. Bring to a boil. Simmer until the meat is very tender.
9. Serve hot.
More photos: