How to make (cook) Hopiang Hapon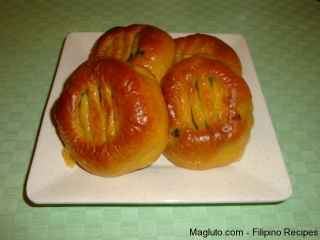 (from mrsRusty's Kitchen Delights)
Dough
Ingredients:
3 cups All Purpose Flour
1/4 cup White Sugar
1/2 cup Vegetable Oil
3/4 cup Water
1/2 Cup Margarine, non-hydrogenated
I T Vanilla
golden yellow food color
Procedure:
Combine all ingredients. Knead to form a  dough.
Equally divide the dough into 64 pieces .
If you prefer, larger dice; just divide the dough into 32 pieces.
Filling
Ingredients:
1 1/2 cup Brown Sugar
1 cup All Purpose Flour
1/2 t  Salt
1 1/3 cup Sweet Potato, mashed
1/2 cup Water
1/2 cup Evaporated Milk
3/4 cup Condensed Milk
1 1/3 cup Coconut Milk
1/2 cup Margarine, non-hydrogenated
1 t Pure Vanilla Extract
Procedure:
1. Steam sweet potato until cooked. Remove the skin and then mash.
2. In a blender or food processor, combine all ingredients and mix until all dry ingredients are dissolved
3. In a heavy saucepan,cook over low to medium fire. Stir continuously until mixture coats the spoon.
To assemble or how to make:
1. Flatten each dough and form into a circle. Place the prepared filling at the center and then gather the edges to seal. Place filled dough on a tray with the sealed part underneath.
2. Preheat the griddle for a few minutes. Place the prepared HOPIA  on the griddle. Using 2 flat wooden spoons, constantly press and turn the sides to form a dice.
3. Continue grilling until all sides are golden brown.
Source: http://mrsrustysdelight.multiply.com/journal/item/178/Diced_Hopia
Wikipedia:
Hopia is a popular Filipino bean filled pastry originally introduced by Fujianese immigrants in urban centres of the Philippines around the start of the American civil occupation. It is a widely-available inexpensive treat and a favoured gift for friends and relatives. There are two types, the flaky type which uses Chinese puff pastry and the cake dough type which uses a soft cookie dough similar in texture and taste to the wrapper dough for fig newtons.
The most popular flaky hopia is Hopiang mungo and as its name implies, is filled with sweet split mung bean paste. Hopiang baboy is filled with a bread crumb paste studded with candied winter melon, flavoured with green onions and enriched with candied pork backfat which originally gave it its name. Due to the popularity of Ube, the purple yam paste that was traditionally served mainly at Christmas time which has a unique colour and great flavour that lends itself to pastry making, Hopiang ube has in recent years also become a clear favorite among Filipinos necessitating its availability the whole year round.
The second type of hopia, the cake dough type also called Hopiang hapon (English: "Japanese Hopia"), is usually filled with sweet adzuki bean paste and when formed into round cakes look similar to small moon cakes served for the Chinese Autumn Festival. They are sometimes formed into cubes and cooked on a griddle one side at a time instead of being baked in an oven. Hopiang hapon also bears a close resemblance to the more recently introduced Japanese kuri manju both in its filling and its wrapper dough which probably supplied this hopia's "hapon" (Tagalog for Japanese) designation.
Several stores offer this product in the Philippines.
Source: http://en.wikipedia.org/wiki/Hopia