How to make Yema (Custard Candy)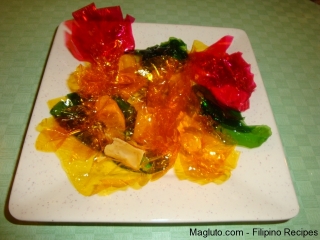 I didn't know that making Yema is so simple. Try it when you get a chance!
Ingredients:
1 can condensed milk
2 tbsps butter
4 pcs egg yolks
1 tbsp rum
How to cook:

1. Combine egg yolks and condensed milk in double boiler.
2. Cook until thick, mixing continuously. Remove from heat. Add butter and rum. Cool.
Source: http://www.filipinovegetarianrecipe.com/native_delicacies/turones_filipino_con_yema.php
Yema version 2
Ingredients:
1 can condensed milk
12 egg yolks
Procudure:
1. Mix condensed milk and egg yolks in a sauce pan (a double boiler - which is basically a small pan inside a big pan containing water - works wonder for this).
2. Cook mixture under medium - high heat, stirring continuously until the mixture coagulates and separates from the pan.
3. Cool.
4. Shape into pyramids and wrap with cellophane cut into squares.
Source: http://www.ex-designz.net/recipedisplay.asp?rid=820