Filipino Recipe Fried Chicken (Pritong Manok)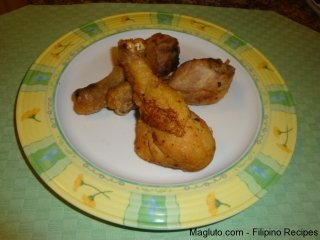 Fried chicken can be cooked in many ways. Below are the different friend chicken recipes I found on the web. It's up to you to try the different recipes.
Fried Chicken version 1
Ingredients:
1 1/2 kg fresh chicken, dressed and sliced into serving pieces
1 tsp ground black pepper
6 tbsp patis (fish sauce)
2 tbsp calamansi juice
1 1/2 cups pork lard or vegetable oil (pork lard will make the chicken tastier)
How to cook:
1. Wash and clear the chicken. Pat dry with paper towels.
2. Season the chicken with black pepper, making sure to put some under the loose skin of the chicken.
3. In a bowl, mix the patis and the calamansi juice. Marinate the chicken in this mixture, skin inside down, for 1-2hours, turning over the chicken at regular intervals.
4. In a deep wok or sauce pan, heat the oil to high heat. Carefully put in 3-4pieces of chicken and lower heat. Deep fry the chicken until golden brown. Repeat with remaining chicken.
5. If desired, serve with ketchup and hot sauce.
Source: http://www.nibbledish.com/people/chaditz/recipes/pinoy-fried-chicken
Fried Chicken version 2
Ingredients:
1 (2-3 lb)  whole chickens (cut into serving pieces or you can use just thighs or just drumsticks or just wings… J)
4 garlic cloves, crushed
2 bay leaves
1 teaspoon whole black peppercorn, crushed lightly
3/4 cup soy sauce
1 cup distilled white vinegar (or cane vinegar is better if you can get hold of one)
1 1/2 cups water
oil, for deep-frying
How to cook:
1. In a large pan combine the chicken, garlic, peppercorns,bay leaves, soy sauce, vinegar and water and bring to a boil. Simmer uncovered over low heat until chicken is cooked through (25-35 minutes).
2. Remove chicken from pan and pat dry.
3. In a large skillet heat the oil over medium heat until it is hot but not smoking. Then deep fry the chicken in batches until it is brown and the skin looks crispy. (NOTE: Make sure you pat them dry as it spits!).
Source: http://www.recipezaar.com/Nanays-Filipino-Fried-Chicken-217038
Fried Chicken version 3
Ingredients:
1 chicken (1&1/2 kilo)
3 tbsp. soy sauce
1 tsp. garlic minced
3 tbsp. calamansi juice
1/4 cup tomato catsup
1/2 tsp. MSG
Cooking oil for frying
Salt and pepper to taste
How to cook:
1. Clean chicken and cut to large pieces or into quarters if desired. Marinate the chicken about 2 or more hours in the above mixture of soy sauce, garlic, calamansi juice, catsup, salt, pepper and detain, taking care to rub minced garlic on surface of chicken pieces.
2. Turn chicken several times in marinade. Drain the chicken pieces and fry in deep hot fat until golden brown.
3. If desired, dredge in flour first or roll in powdered bread crumbs (biscocho), before frying. Serve with catsup. Good for 8 persons.
Source: http://www.filipinofood.junkfoodie.com/2007/07/17/pinoy-fried-chicken.htm
Friend Chicken version 4
Ingredients:
1 2-3 pound chicken, cut into serving pieces
1/4 cup white vinegar
1 cup water
4 cloves garlic,
crushed salt and pepper to taste
1 cup cooking oil
How to cook:
Simmer chicken in vinegar, water, garlic, salt and pepper until almost done. Drain off liquid. Deep fry chicken in oil until brown. Drain chicken.
Source: http://lasvegasgirl.multiply.com/recipes/item/12
Fried Chicken version 5
Ingredients:
1 lbs. chicken, cut into serving pieces
flour for dredging
oil for frying
Marinade:
3 tablespoons soy sauce
juice of 1 lemon
salt and pepper to taste
How to cook:
Blend marinade well and combine with the chicken pieces. It's best to marinate for 4 hours in the refrigerator. (I do this very quickly, i think 30minutes only, hehe) Stir meat occasionally to distribute marinade evenly.
Roll chicken pieces in flour. My technique was to put the flour on a zip loc bag or any small food plastic. Put chicken one at a time and shake.
In a non-stick skillet over medium heat, pan-fry chicken pieces in a little oil for 8-10 minutes on each side or until fully cooked and browned on both sides. Drain on paper towel. Serve immediately.
Source: http://www.kitchendeelite.com/2008/09/recipe/chicken/fried-chicken-filipino-style/