Filipino Recipe Fermented Rice With Fish (Burong Isda) 3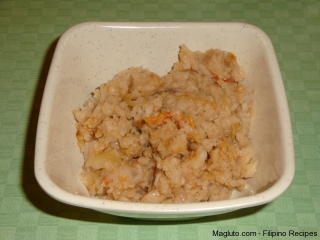 Ingredients:
1/2 kilo milkfish or fresh water carp (well cleaned and scaled)
2 cups cold rice, not burnt
100 grams garlic (crushed)
100 grams ginger (minced)
100 grams red onion (chopped)
6 lime wedges
pinch of salt and pepper
1/2 cup patis (fish sauce)
1/2 cup white vinegar
1/2 cup water
How to cook:

In a bowl, mix all ingredients by hand, mashing everything well.
Pour into a big mouthed bottle.
Stick fishes into the bottle.
Seal the bottle well and keep for 1-2 weeks
After 2 weeks the fish should be ready.
Source : http://www.kusinaatbp.com