Filipino Breakfast Ideas: Fried Salted Dried Fish (Pritong Tuyo)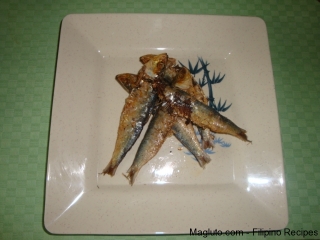 One of the traditional Filipino breakfast is pairing fried scramble egg (or sunny side up) with fried rice and tuyo (salted dried fish). Just a word of warning if you are cooking tuyo make sure that your neighbors wont get mad

Why? You know why!
Filipina Sued for Cooking Tuyo in NY City
In Manhattan Nuns' Lawsuit, the Smoking Gun is Filipinos' Iconic 'Tuyo'
CRISTINA DC PASTOR, Philippine News
01/11/2009 | 06:45 PM
NEW YORK. It may be a cultural thing, but when you're up against a congregation of nuns and your neighbors in an apartment building in Manhattan, a lawsuit would make an interesting anthropological study in ethnic tension.
The Missionary Sisters of Sacred Heart (MSSH) in Manhattan has filed a complaint against Filipino American couple, Michael and Gloria Lim, over a Filipino delicacy called 'tuyo' (dried fish), and its funky cousin, the 'tinapa' (smoked fish). The case is now with the Manhattan Supreme Court.
Reports say Gloria was smoking fish outside her apartment window when the smell noxious stench to the nuns, divine aroma to the Lims of the salted fish wafted throughout the Gramercy apartment building. The 'foul smell' was too strong the nuns suspected it was coming from a decomposing body and called in the Fire Department.
According to reports, the firemen searched every unit of the building and were able to trace the source of the smell to the Lims' unit. They knocked, and when no one came to the door, the NYFD came barreling in. Gloria, a nurse, found her door knocked down and was obviously peeved. It appears the MSSH leases the unit to the Lims and may have authorized the assault.
'I cook dried fish,' Gloria defiantly declared to the NY Post.
Read more: http://www.butikilyo.com/blogs/news/cooking-tuyo-in-new-york-city.html