Filipino Recipe Shrimp Paste (Bagoong Alamang)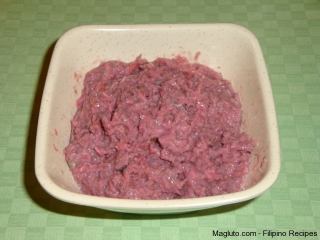 Ingredients:
Small prawn
How to cook:

1.Mix salt with shrimp
2. The mixture is stored overnight and drained and sun dried.
3. The dried mixture is ground and packed in an earthen container.
4. The shrimp paste will sit for a few months before it is ready.
Wikipedia:
Bagoong alamang is a  Filipino shrimp paste, made from minute shrimp or krill (alamang) and is commonly eaten as a topping on green mangoes or used as a major cooking ingredient. Bagoong paste varies in appearance, flavor, and spiciness depending on the type. Pink and salty bagoong alamang is marketed as "fresh", and is essentially the shrimp-salt mixture left to marinate a few days. This bagoong is rarely used in this form, save as a topping for unripe mangoes. The paste can be sauteed with various condiments, and its flavour can range from salty to spicy-sweet. The colour of the sauce will also vary with the cooking time and the ingredients used in the sauteeing. Cincalok is the Malaysian version of 'fresh' bagoong alamang.
Unlike in other parts of Southeast Asia, where the shrimp are fermented beyond recognition or ground to a smooth consistency, the shrimp in bagoong alamang are readily identifiable, and the sauce itself has a chunky consistency. A small amount of cooked or sauteed bagoong is served on the side of a popular dish called "Kare-kare", an oxtail stew made with peanuts. It is also used as the key flavouring ingredient of a sauteed pork dish, known as Binagoongan (lit. "that to which bagoong is applied")
The word bagoong, however, is also connoted with the bonnet mouth and anchovy fish version, bagoong terong. )