Filipino Recipe French Toast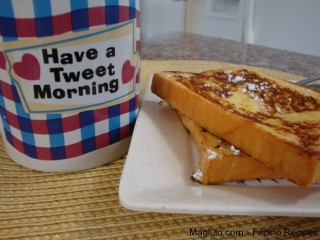 Ingredients:
4 eggs
2/3 cup milk
2 teaspoons of sugar
10 slices of white bread
Butter
Powdered sugar
Maple syrup

How to cook:
1. Beat eggs, milk and sugar together. Pour into a shallow bowl.
2. Dip each slice of bread into the egg mixture, allowing bread to soak up some of the mixture.
3. Melt some butter over a large skillet on medium high heat. Fry the bread until brown on both sides.
4. Serve hot. Sprinkle with powdered sugar on top with maple syrup on the side.
More photos: