Filipino Recipe Sauteed Shrimp Paste (Ginisang Bagoong Alamang)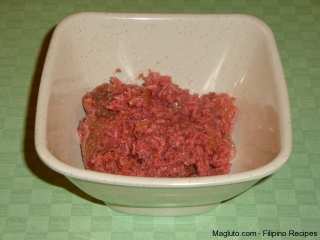 Ingredients:
1 cup cooking oil
3 tbsp crushed garlic
1 cup chopped onions
2 long red chili peppers
1/2 cup #3 brown sugar or muscovado
1/2 cup banana catsup
1 kilo bagoong alamang
How to cook:

1. Saute garlic and onions in hot oil until limp. Add peppers, sugar, and catsup; stir until oil separates. Pour in bagoong and cook over low heat, stirring frequently to avoid scorching.
2. Simmer until reduced by 1/3 and bagoong changes color. Taste and add more sliced chili if needed.
Note: The catsup adds a hint of color to the drab bagoong, while improving its texture with the banana fruit's natural viscosity. The tamis-anghang character of banana catsup balances the saltiness of preserved baby shrimp.
Source: http://www.mb.com.ph/issues/2009/02/08/20090208147407.html